UGANDANCE ™ Music Festival
Our small Taste of UGANDANCE ™ event in 2020 was an immersive multi-cultural destination festival experience set in the beautifully serene setting of
Lake Bunyonyi
.
A bit about UGANDANCE ™ Festival
A Brief History
In 2019, we ventured into launching the region's first International Music Festival Brand called UGANDANCE ™ to throw exotic destination parties and music festivals across East Africa, Europe & beyond.
The Festival's aim was to provide a platform for global and regional brands to host their own unique experiences, underpinned and driven by a collaboration of artists, genres, people, nations, and cultures — coming together to experience some of East Africa's most stunning landscapes.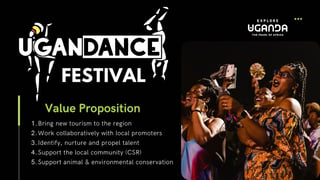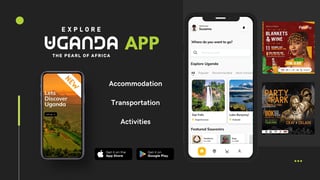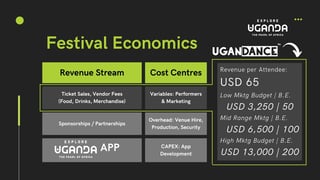 Entertainment
UGANDANCE ™ Festival primarily targeted the destination party tourist. Uganda's well-known reputation for its modern nightlife and strong party culture gives it the potential to become internationally recognized as the entertainment/party capital of Africa. Currently attracting tens of thousands of visitors from the rest of Africa alone to experience Uganda's party lifestyle & culture, we are confident our brands can solidify Uganda's place on the global calendar for music festivals.
Wildlife
Our secondary target is the traditional wildlife tourist. To the average tourist to Africa, Uganda is most famous for its SilverBack Mountain Gorillas, a population of 1000 gorillas that can only be found in this part of the world. These gorillas attract the lion's share of Uganda's 300,000 park visitors and generate $15 million in revenue each year (according to UWA), making this species of wildlife the largest contributor to Uganda's tourism sector. We seek to use our platform as a force for Gorilla Conservation.
Culture
Driven by Uganda's deep-rooted & historical appreciation for tradition will give our brands & festivals an edge that no other in the world can replicate. We create multi-layered concepts with an overarching theme of the celebration and showcasing of Ugandan culture. Brought to life with professionally curated world-class arts, music, crafts, travel, and drama, attracting the world to "Dance like Uganda"…hence "UGANDANCE". The culture enthusiast will be spoilt for choice.
Community
Finally, UGANDANCE ™ Festival targets volunteer tourists. Being festival organizers with a strong awareness of the challenges faced in local communities around Uganda. We greatly recognize the efforts of the 7700 volunteers that come to Uganda each year (according to UNDP) to engage in community-building activities through both charity and business enterprise. We have decided to commit to giving volunteers at our partner projects, discount tickets to our festivals.